People of God do not lose faith during these perilous, unstable times, you can be assured that God plans will be established (Isaiah 55: 11). When Jesus puts forth a plan, he has already done the math and knows how it is going to add up. He has already done the trial run and knows all the pitfalls, turns, and twists in the road. He has already looked through the telescope of time and saw the end from the beginning (Isaiah 46: 10). He knows exactly how the story ends.
Take note in Matthew 2: 16-18, when the evil King Herod had heard of a new king being born in the city of Bethlehem ( Matthew 2: 1), he ordered all males two years old and older to be executed (Matthew 2: 16). He could not bear to think that someone else could take his throne. But you see God had a plan for his son Jesus to be born who the world calls the King of kings.
King Herod thought that his evil scheme (Matthew 2: would be carried out and his throne would be protected. He was certain that the job was completed until he heard that there was one baby that was not found. The king was deeply troubled and remembered the prophecy of the Wise Men who would journey from the east to pay homage to the newborn king (Matthew 2: 1-2). He plotted to have them followed to where the baby was born and report back to him so that he could find the child and kill him (Matthew 2: 8,9).
But praise is to God, we have an Omnipotence, Omniscient, Omnipresent (1 Corinthians 6: 14) God whose wisdom, knowledge, and judgment is unsearchable and ways past finding out (Romans 11: 33). Because God knew that his son's life was in danger, he gave the Wise Men boundless love and admiration for the newborn as soon as they saw him. They were warned of God in a dream they should not return to Herod. They returned home another way (Matthew 2: 11, 12).
Because Herod had these innocent babies murdered God anger was kindled against him. Upon the day when Herod was lifting himself in pride as a literal God, an angel struck him down, because he did not give God the praise. He was eaten by worms and died (Acts 12: 23).
In conclusion, people of God be assured that God's plan cannot be destroyed it is invincible and will always be fully manifested. There is nothing man or the evil one do to thwart God's plan. God is all-powerful and his will shall forever be done on earth as it is in heaven (Matthew 6: 10). God does not change his plans, even when a man refuses to obey him, he chooses another individual (1 Samuel 16: 1-13). Keep in mind that the God of eternity had a plan before the world began that his son Jesus Christ would become the savior of the world (Isaiah 7: 14). Unlike earthly kings, his son would be the king of kings and Lord of Lord, whose reign will last forever.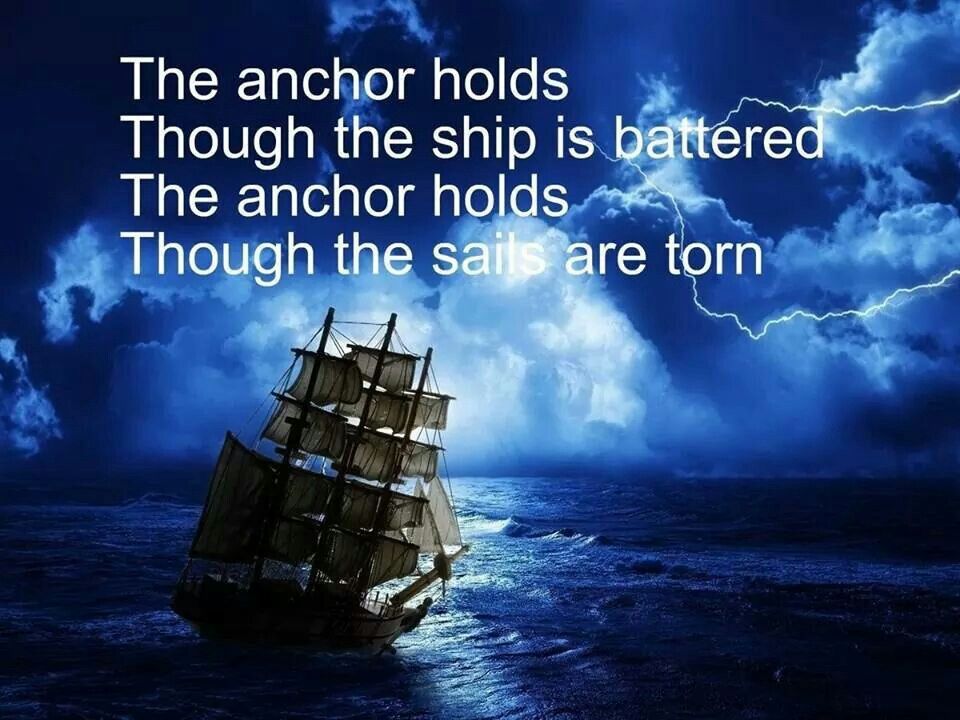 God's word is anchored/ secured (Matthew 24: 35). The scripture declares in Isaiah 55: 11, "So shall my word be that goeth forth out of my mouth: it shall not return unto me void, but it shall accomplish that which I please, and it shall prosper in the thing whereto I sent it."
The Lord authorized me to echo the words of this song to you in conformity with the sentiment of what is written above.
The Anchor Holds/ by Ray Boltz
I have journeyed
Through the long, night
Out on the open sea

By faith alone
Sight unknown
And yet His eyes were watching me

The anchor holds
Though the ship is battered
The anchor holds
Though the sails are torn

I have fallen on my knees
As I faced the raging seas
The anchor holds
In spite of the storm

I've had visions
I've had dreams
I've even held them in my hand

But I never knew
They would slip right through
Like they were only grains of sand

The anchor holds
Though the ship is battered
The anchor holds
Though the sails are torn

I have fallen on my knees
As I faced the raging seas
The anchor holds
In spite the storm

I have been young
But I am older now
And there has been the beauty
That these eyes have seen

But it was in the night
Through the storms of my life
Oh, that's where God proved
His love for me

The anchor holds
Though the ship is battered
The anchor holds
Though the sails are torn

I have fallen on my knees
As I faced the raging seas
The anchor holds
In spite of the storm